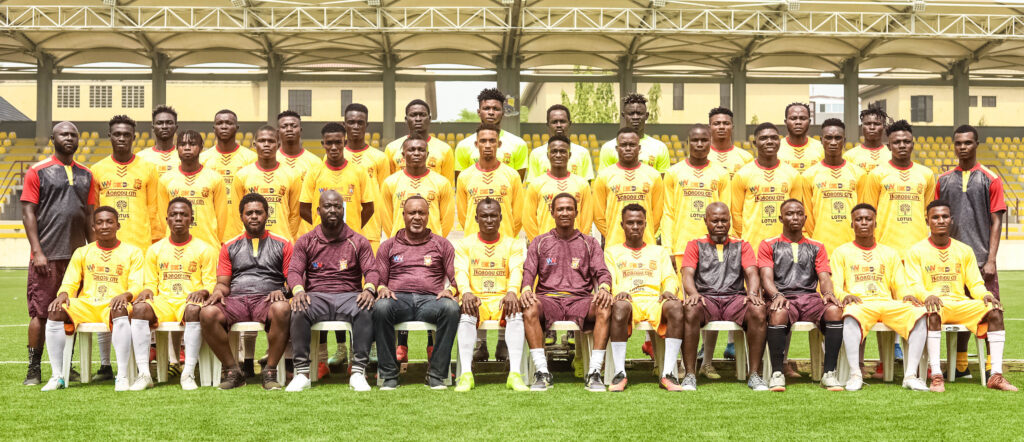 Ikorodu City Football Club is the rebirth of the foremost Community based Football team from Ikorodu, popularly known as Bolowotan Football Club (BFC).
Bolowotan (BFC) is an indigenous Football Club based in Ikorodu, Lagos State. The club was incorporated in 2007 in furtherance of Sports, Football in particular, through the training and development of indigent
youths with the aim of taking them off the streets and making them responsible citizens, by engaging
them in football.
The segment of the society most prone to engaging in criminal activities is the youths. Hence, their gainful engagement is critical to the stability of the society and a stable society is essential to the development of business.
After years of existence, Bolowotan gained promotion to the second tier league in Nigeria (Nigeria National League), in fine fashion. The management of the club couldn't fund the team due to minor financial crisis, hence the board of the team made an unpopular decision and gave the slot to MFM FC, who later gained promotion to the apex league in Nigeria (Nigeria Professional Football League) riding on BFC's initial run.
Our achievements include the following:
• Came 2nd and won the most entertaining team award at international Pepsi Academy
Championship in November 2007.
• 1st runner at the Lagos Zone FA Cup and played at round of 32 at National Level FA Cup in 2007-the farthest any Lagos based Team has gone at national till date.
• Elevated to the 1st National League Division (Nationwide League) after topping its group at 2nd National Division Group B in June, 2009
• Came 2nd and 3rd in 2009 and 2010 editions Lagos MTN street soccer.
• Won bronze medal at the 2010 Lagos Obas Cup.
• Came 3rd and 4th in the 2010 and 2011 seasons of National League losing promotion with just a
point in both years.
• Won third place at 2011 Lagos Federation Cup for 2011.
* Gained promotion to the Nigeria National League in 2012.
* 2 of our players made it to the Nigerian National Football Teams: Nurudeen Orelesi to Under 23 team and Edet Ibok to Under 20 team.
* 3 of our players progressed to bigger local and international teams: Olatunji Joseph of FC Albansini in Albania, Daniel Agbagu to Freestate FC in South Africa and Razak Adegbite of Rangers International of Enugu.
There is no doubt that the rebirth of Bolowotan FC, to Ikorodu City FC will be a major landmark to Sports development in Lagos State and by extension to every Nigerian.