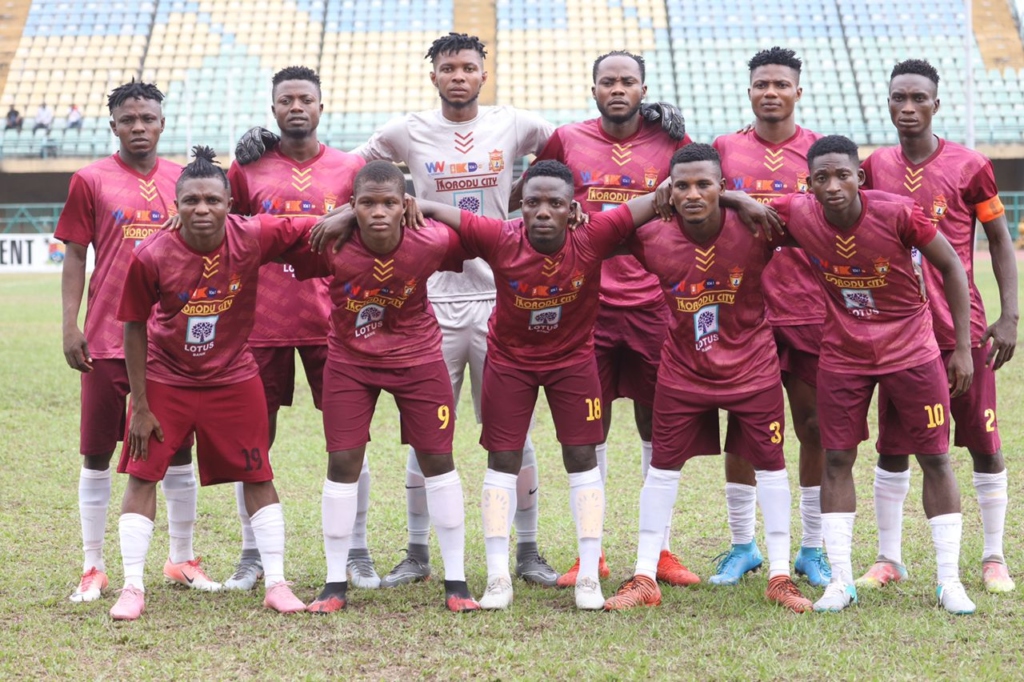 Final game of the first half of the season and Ikorodu City travelled to Owerri to face 11th place Campos FC at the Dan Ayam Stadium, in matchday 11 of the Nigeria National League (NNL), 2022 season.
On the back of a 2-0 victory over Ekiti United the previous week, Coach Abiodun initially named an unchanged side before having a last minute tweak to the line up, replacing Farouk (fasting) and Anu who was feeling unwell with Uzezi and Gabriel.
LINE UP: GK: Amah John; Sebastine Godwin,Uchenna Emmanuel, Gabriel Adewara,Idowu Yusuf; Gafar Ojo, Oyedokun Tosin, Issa Saheed,Salami Ismail; Uzezi & Henry Okachi.
The start to the first half was nervy as both teams tried to create half chances. Campos FC were the better team in terms of possession and forced Ikorodu City to play on the break.
The first breakthrough came in the 30th minutes. A free kick from over 30 yards and Gabriel, back in the line, stood over it. A fantastic effort into the right hand corner, gave the goalkeeper no chance.
It was his second goal of the season, second direct from the set piece and second from over 30 yards to give Ikorodu City the lead.
The hosts immediately upped the tempo and almost equalized immediately. Their efforts were rewarded two minutes from the break, when a strike from Nzube struck Sebastian Godwin, causing a big deflection as the ball trickled down to the bottom corner. Amah's effort to save the ball proved costly, as the keeper picked up an injury and was replaced by Paul, as the first half ended 1-1.
The second half was more of the same. The home side having all the possession, causing Ikorodu City to defend and it was almost a second for Campos when Paul was caught off his line, Ngei's effort was clearly heading for the back of the net, but for a goal line header from Uchenna Emmanuel, to keep the scores level as the game tilted towards full time.
In the ends, Ikorodu City travel back to Lagos with a point in hand. Their second only point away from home, and the first time they pick a point after traveling with their first away point coming in a draw against Vandrezzer in Lagos.
The league goes on break for a week till the 25th of April.
Campos FC will travel to Lagos to face Ikorodu City on the return leg to start the second half of the NNL 2022 season.