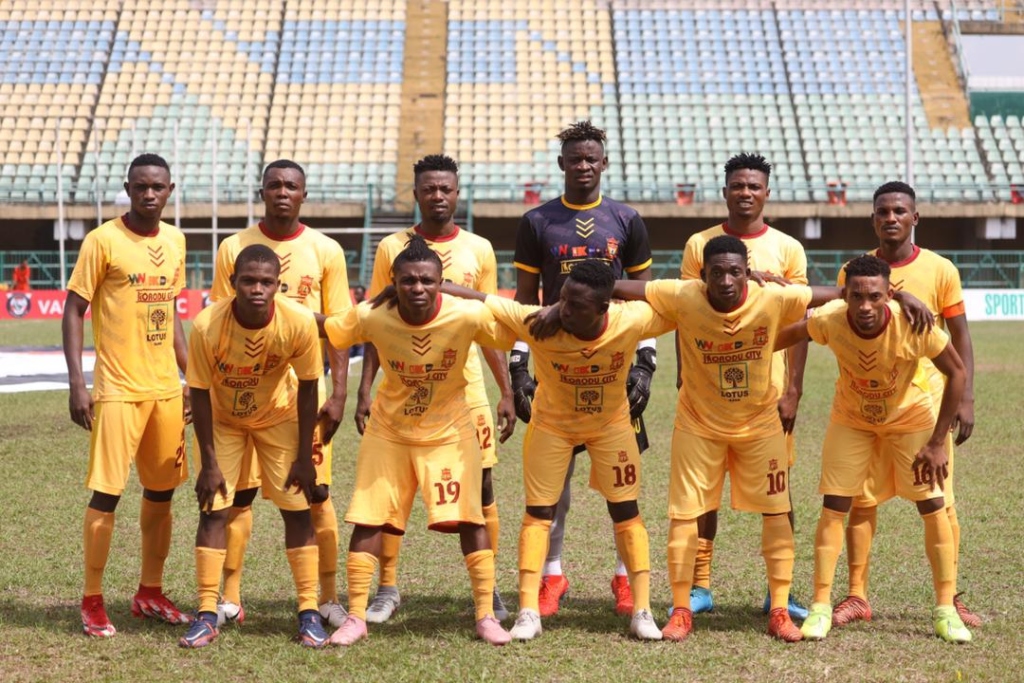 Our first away game of the season, the first Lagos derby, and it was a similar result to Matchday 1, as the spoils were shared.
Sticking to a 4-4-2 formation, that operates as a 4-2-2-2 wide set up, Coach Obafemi, made four changes to the starting XI personnel, as goalkeeper John Amah, skipper Idowu Yusuf, Uchenna Emmanuel and Damola Oluwa, were all given a spot on the bench this time.
LINE UP: GK: Akor Paul; Sebastine Godwin, Johnson Peter, Adewara Gabriel, Harrison Austin; Musa Habeeb, Oyedokun Tosin, Olubode Hassan, Godwin Odibo; Salami Farouk & Ayoade Babatunde.
The first half started with the Champions of Lagos, Vandrezzer, having control of the game, keeping possession with Ikorodu City not settling in quickly, being all over the place.
The spell of possession by the home team led to no chances and soon the pendulum swung in favour of the Ikorodu Boys.
It was time for us to dominate play, the pressure was imminent and eventually we were rewarded with a goal for the hard work.
A corner from the left from Austine, fell to Odibo who controlled and laid it perfectly for Salami Farouq, who made no mistake to slot it past Vandrezzer goalie, Obinna in the 26th minute of the explosive encounter, to give us our first ever NNL goal.
Subsequently, it was the two teams sizing each other out, the Lions of Naija throwing more forward for the equalizer, and almost being caught out on the break by the Ikorodu Boys.
The home side restored parity in the 44th minute, when a ball into the box was fumbled with a poor kick and it fell on a plate for Saviour who fired a ferocious strike, and the game crawled to half time with the scores level.
The second half was however different from the first, as it was all Ikorodu City from start to finish, as the substitutions began to roll in.
Ojetoye Waliu, Ogoh Stanley and Oghenovo Uzezi came in to replace Salami Farouk, Olubode Hassan and Ayoade Babatunde.
The away side put up a performance that looked like they would run away with all three points, when they broke free on goal three times with identical situations, Godwin Odibo and Ogoh Stanley had opportunities to seal the game but they could not.
Both Odibo and Stanley found themselves in one-on-one situation to put Ikorodu ahead, but they decided to round the goalkeeper, Obinna, who was brilliant on the day, as he stopped the duo from wrecking havoc on his team.
Ikorodu City were left to rue their chances as they failed to pick maximum points, twice this season and have just two points, from the opening two games of the season, as it ended 1-1 at the Teslim Balogun Stadium, Lagos.